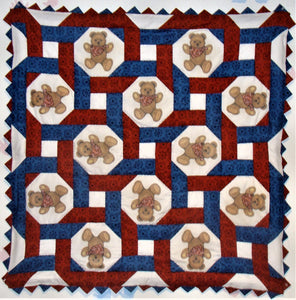 Bears Intertwined Western Quilt Pattern
This baby quilt pattern will be emailed to you after you complete checkout.
Pattern includes detailed, step by step, instructions and color illustrations on how to make this quilt from beginning to end.

This quilt pattern:

Can be used to make a quilt or a wall hanging
Can be put together in 2 to 3 days, depending on your experience
Finished size is approximately 40" x 40"

See below for details

Step 1 - Covers items you will need:

Fabric - pattern tells exactly how much of each fabric you will need
Quilt batting
Hand Quilting thread
All purpose thread
Sewing machine
Quilting needle
Quilting hoop (or frames) - these instructions explain how to use a quilting hoop
Scissors
Straight pins
Safety pins
Thimble (optional)
Transfer paper

Step 2 - Has the actual pattern pieces for you to cut out

Step 3 - Tells you how many of each pattern to cut out

Step 4 - Covers printing bears onto transfer paper

Step 5 - Iron Bears onto octagons

Step 6 - Covers sewing the quilt top together.

Make blocks
Sew blocks together to make rows
Sew rows together
Sew on a border to complete the quilt top - this border does not have to be mitered!

This step also has diagrams to illustrate each step. It's like having somebody "hold your hand" through the whole thing.

Step 7 - Explains how to quilt using a quilting hoop

Step 8 - Tells you how to bind the quilt with a handkerchief edge.

All throughout this pattern are little tips to tell you the best way to do things to make everything work out just right!
---
We Also Recommend
---