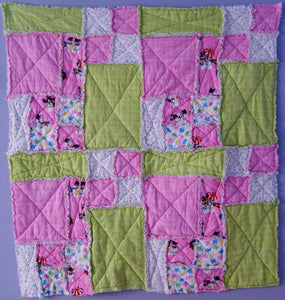 Baby Girl Rag Patchwork Quilt Pattern
This downloadable baby quilt pattern includes detailed, step by step, instructions and color illustrations on how to make this quilt from beginning to end. Upon purchase, pattern will be emailed to you as a pdf attachment.
This Baby Girl Rag Quilt is quick and easy to make as it is all done on the sewing machine, no hand quilting required! Each block is frayed on the edges to give it the "rag quilt" effect.
This quilt pattern:
Can be put together in 1 to 2 days, depending on your experience
Finished size is approximately 40" x 40"
See below for details
Step 1 - Covers items you will need:
Fabric - pattern tells exactly how much of each fabric you will need
Quilt batting
All purpose thread
Sewing machine
Scissors
Step 2 - Cutting out the blocks
Step 3 - Sew the rectangles and squares together with quilt batting
Step 4 - Sew blocks together
This step also has diagrams to illustrate each step. It's like having somebody "hold your hand" through the whole thing.
Step 5 - Trim & Snip Seams
All throughout this pattern are little tips to tell you the best way to do things to make everything work out just right!
-With a little imagination you can select different colors or prints for your own custom design
---
We Also Recommend
---